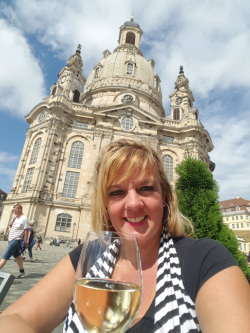 I started my new year finding out on New Year's Eve that the man I had dated for the past year was in engaged, married, annulled, and married again right under my nose in between our visits.

I was devastated....even ending up in the emergency room At first I wanted to hide from everyone.....feeling SO dumb that I, a confident woman, had been played. Then, anger set in when finding out how many lies I was led to believe and the number or other women who had been played by the same man Now, I am looking ahead and turning my negative experience into positives!

I Win..... I was able to leave easily and was not legally bound to the man I now know has been married at least 4 times if not more.

I Win.... I was reminded of how much I love to travel. I got to see Dresden, Germany a beautiful part of the world that I probably wouldn't have ever visited twice if I hadn't met him

I Win.....I got out safely. My heart & ego were hurt but he never physically hurt me like I now know he has done to other women when they discovered his truths. I will now take the precautions I need to protect myself from him.

I Win....I was reminded of all the family & friends who love me, have my back and are here for me. Who reached out to remind me that I am not alone. He will never know what that feels like. He is a Narcissist and can only love himself. For that I am very sad for him!

I Win.....I am going to share my story to help other women. I am not going to tuck my tail and hide. He may of hurt me but he didn't break me. If anything he made me stronger and more passionate of my wanting to help other women.

I Win....I am going to follow my dream of driving across the USA teaching Red Hot & Ladylike classes along the way raising money to fight Domestic Violence.....more details soon!!

I know it will still take some time for me to be whole and trust again....but I WILL. Everyday my heart is growing stronger, my fire is burning brighter and my passion to help other women is flowing greater!! For all these reasons and more......


YOU LOSE and I WIN!!