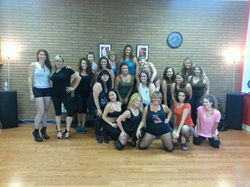 GIRLZ NITE OUT
Friday March 2 7-8:30 pm
Bring out your holiday naughty.....
Come on in for a night of fun & feeling SEXY!! And support a great cause. Learn some dance moves you can use on the dance floor or for that special someone!! No dance experience is required! Just an open mind & a desire to have fun! Dressing up is part of the Burlesque tradition so you are encouraged to dress in whatever makes you feel sexy: fishnets, camisoles, slips, booty shorts!! Just keep in mind you should be able to still move freely. Shoes should be comfortable...boots are great & if you choose heels ones with straps are better! We will have social time at the beginning of class! So bring your adult beverage!! Should anyone want to go out after that can be arranged!!
Reserve Your spot Online:
$12 in advance $15 at the door
By phone:207-650-9345
By Email: info@redhotandladylike.com
Interested in having a class at your studio?? Call MissE for details!!
---
---
Bring your Human Prop
Offered once a Month.....join us once or every month!!
March 16 Get Lucky!!
7-8:30 pm
​

---

A new kind of date night!! A fun time guarenteed to spark your evening with your date!! We will kick off the night with social time & beverages then take it into the dance studio! No Dance Experience is needed. Come dressed how you feel comfortable to dance....ladies bring your heels!! Men you get to sit in the chairs so keep that in mind. This is a BYOB night!! Bring your own booze & body to dance with ....LOL!!

$25 per couple